From Transylvania to Treating Shipboard Patients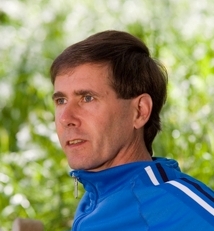 By Robert Cooper, Writer
Radu Vultur's parents were both doctors. His father was chief of gynecology and a hospital director for a time in the Transylvanian town of Reghin, Romania, and his mother was a general practitioner. But, like most children, he initially resisted following in their footsteps before "falling close to the tree." He wanted to see the world. So, Radu was hired to work onboard a major cruise ship, managing hotels/restaurants, which, inevitably, began his love affair with shipboard life.
"Because of my parents' medical background, I was interested in the work of the medical department," he recalls. "So, I talked to the lead nurse onboard about it, and eventually, I decided to get my diploma and rejoin the ships in a medical capacity." With this goal in mind, he returned to Romania, earned a nursing degree, and worked for four years as an ambulatory care and emergency room registered nurse in several Transylvania hospitals before heading back to sea.
"It's very different working at sea," he says. "In the hospital ER, I did not deal with x-rays, lab results, and so on because other teams handled that. On the ship, I do everything: x-rays, blood work, and more—onboard we treat everything, not just emergencies. Working in the medical center onboard expanded my areas of knowledge and experience and even improved my leadership skills."
After three years of working as a shipboard nurse for a major cruise line, he accepted his current position at VIKAND as a lead nurse. "I'd heard many good things about VIKAND," he says, "From the beginning, it felt like being a part of a big family because the VIKAND team was always there to support us and assist us in any way possible."
Radu, 38, spends most of his time in the ship's medical center overseeing the pharmacy and tending to guests and crew for a myriad of injuries and illnesses in coordination with three other nurses and a doctor. Dealing with COVID-19 has also become another responsibility of his as he has overseen the testing schedule for guests and crew, trained an onboard COVID-19 officer, and treated and disembarked COVID-19 infected guests. He has worked with doctors and nurses from Serbia, Ukraine, Montenegro, the Philippines, and South Africa, and enjoys the camaraderie that develops among shipboard medical teams. During his time off between contracts, he has visited some of them in their countries.
His most dramatic experience at sea required him to keep a young crew member with a broken leg alive during a five-and-a-half-hour helicopter flight from northern Greenland to the nearest hospital in the capital city of Nuuk. "The weather was bad, and it was only me and him—no doctor," he recounts. "Any helicopter medical evacuation is very difficult because it is so loud that we must wear earplugs, which made it challenging to communicate with the patient. I just kept talking to him and used my ER background to help both of us stay calm. I was worried, of course, because he lost a lot of blood, but I stayed positive and confident. I could not communicate with the hospital, but they knew he was coming. When we finally arrived, he went into surgery and survived."
To recharge during his time at sea, Radu takes time to explore the places where the ships berth. Nurses are always welcome to join excursion tours in case a guest has a medical problem. "I have unforgettable memories from those tours," he says. "I especially enjoyed a waterfall tour I took in Dominica [in the southern Caribbean]. We saw awesome landscapes and learned how the locals lived, and then I was able to swim through a cave to a waterfall. I also did a river tubing tour in Grenada, which also passed through three waterfalls. It was just as amazing."
His current VIKAND contract has him caring for patients while seeing the world on a 2,000-passenger ship that also plies the Caribbean Sea. And he loves it!
Nurses, as well as physicians and paramedics, interested in applying for a VIKAND shipboard assignment can go to www.vikand.com/shipboardjobs.
---
---

---
Subscribe to our news digest to receive the latest maritime healthcare news from VIKAND sent right to your inbox
---

---
Subscribe to our news digest to receive the latest maritime healthcare news from VIKAND sent right to your inbox
---

---
Subscribe to our news digest to receive the latest maritime healthcare news from VIKAND sent right to your inbox
---

Subscribe to our news digest to receive the latest maritime healthcare news from VIKAND sent right to your inbox

Subscribe to our news digest to receive the latest maritime healthcare news from VIKAND sent right to your inbox