VIKANDER Profile: Dr. John Howe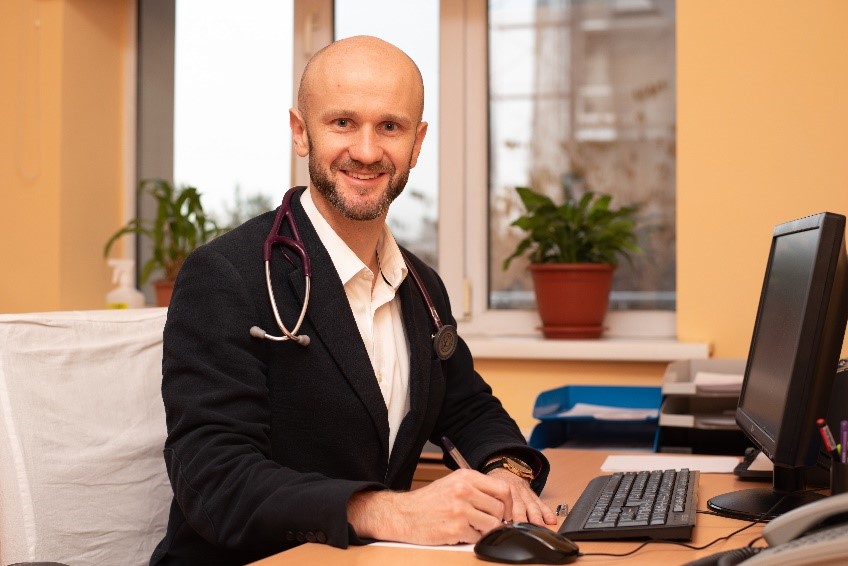 Physicians have often been on the cusp of movements for civilization: by developing new paradigms in health care, solving unprecedented need, and understanding how medical science can benefit humanity.
So it is with Dr. John Howe. A physician, scientist, technology guru, and compassionate doctor with experience as diverse as serving vulnerable populations in developing countries to launching med-tech start-ups to serving as an onboard physician, John is a modern-day renaissance man.
As VIKAND's Medical Director, John Howe, MD, coalesces the breadth of his experience while simultaneously solving and adapting varied and nuanced issues of human sustainability for seafarers, the most fundamental aspect of VIKAND's mission and vision.
One of John's critical responsibilities is to refine VIKAND's innovative telemedicine platform. From a technological perspective, the platform enables and supports VIKAND's value proposition across its full range of maritime medical services. From a medical perspective, the platform enables a proactive and reactive approach to health and wellness by engaging both individual crew members and vessel command. From a commercial perspective, the platform acts on behalf of VIKAND's clients to optimize both crew maintenance and crew retention.
Day-to-day, John works closely with colleagues and VIKAND's partners to finalize software development for its total healthcare solution aboard and ashore. John is also building VIKAND's team of telemedicine clinicians and evaluating innovative medical devices to determine their effectiveness as additions to VIKAND's medical and formulary services. These efforts provide proven health and wellness solutions and engagement for clients, crew, captains, and operators.
John previously served as Chief Medical Officer for Viveo Health, an award-winning telemedicine start-up in Tallinn, Estonia. In this role, he led and expanded the development of digital primary care services for six million patients in India, Mexico, and the Baltics, developing clinical quality standards and quality improvement initiatives across Viveo's markets. He also directed the onboarding and verification of doctors joining the platform. Viveo's multi-disciplinary healthcare team provides first-class medical care to international corporations and individual patients.
Following a stint as Chief Medical Officer for International SOS's Almaty Clinic, John created his own 24/7 general practice and emergency care facility. His roles included attracting multinational corporate clients, leading clinical governance, providing clinical education and mentorship, and direct involvement in patient care.
Like many of VIKAND's team, John has saltwater in his veins—he even takes daily swims in the waters off rural Wales where he now lives. His love for the sea led to his experience as Senior Cruise Ship Physician for both Viking Ocean Cruises and Disney Cruise Lines. In his current role at VIKAND, he returns to his passion for leading initiatives for comprehensive health care at sea.
A two-time graduate of the Imperial College London, in John's view the most significant advancement of public health over the past decade is in the field of telemedicine. The virtual consultation is now commonplace. Electronic Medical Records (EMR) have the capacity to transform care from being reactive to proactive. Medical devices are becoming more sophisticated, more portable, and more cost-effective. John's focus on integrating these advancements and customizing them for the maritime industry will result in a healthier and happier crew, and, of equal importance, an improved level of crew retention and crew maintenance.
Dr. John Howe is married, and lives with his wife in Pembrokeshire. It's a peaceful corner of Great Britain, with green fields running down to the sea, and a rugged, beautiful coastline. John is an avid hiker, outdoorsman, and a lifelong fan of the Liverpool Football Club. Liverpool's club anthem, You'll Never Walk Alone, speaks of a unity, a passion, and a camaraderie which is embodied by Dr. John Howe.

---
---

---
Subscribe to our news digest to receive the latest maritime healthcare news from VIKAND sent right to your inbox
---

---
Subscribe to our news digest to receive the latest maritime healthcare news from VIKAND sent right to your inbox
---

---
Subscribe to our news digest to receive the latest maritime healthcare news from VIKAND sent right to your inbox
---

Subscribe to our news digest to receive the latest maritime healthcare news from VIKAND sent right to your inbox

Subscribe to our news digest to receive the latest maritime healthcare news from VIKAND sent right to your inbox